Welcome to
ClevelandSeniors.Com,
the online home for
"Seasoned Citizens"
of Cleveland, Northeast Ohio & Beyond!

---
---
Cleveland Indians renovate baseball fields in Hough
The Cleveland Indians hosted the fourth annual Fields for the Future project on Thursday, May 10 at Thurgood Marshall Recreation on Cleveland's East Side.

Along with Cleveland Indians owner Paul Dolan and his wife Karen, Indians catcher Yan Gomes and his wife Jenna, who made a financial donation to support the project, City of Cleveland Assitant Director of Public Works Kim Johnson, City of Cleveland Councilman Basheer Jones, State Representative Stephanie Howse, and staff from U.S. Representative Marcia Fudge's office were on hand to unveil renovations. Local youth then played a game on the newly renovated field.

The Fields for the Future program began in 2015 at Luke Easter Park on Cleveland's East Side. In 2016, a field was renovated at Gunning Park and in 2017, a field was renovated at Halloran Park. According to the City of Cleveland, field usage improved tremendously after the renovations, with the number of games played at the field growing four-fold.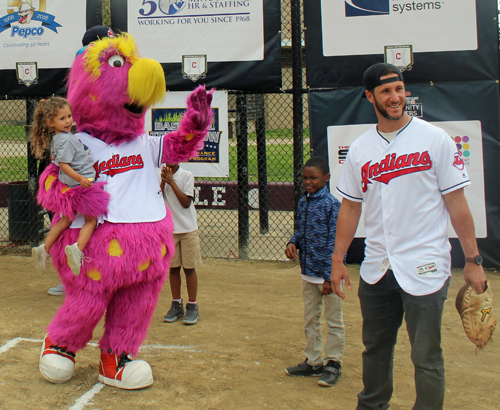 Cleveland Indians mascot Slider with Yan Gomes and kids
See photos and videos of the Cleveland Indians Charities project
---
Superman wasn't born on Krypton. He was born in Cleveland.
More precisely he was born at 10622 Kimberly Ave. in Cleveland's Glenville neighborhood.

While attending Glenville High School in Cleveland in early 1933, Jerry Siegel wrote a short story, illustrated by his friend and classmate Joe Shuster, titled "The Reign of the Superman", which Siegel self-published in his fanzine, Science Fiction #3. Originally Superman was a villain but in June 1933 Siegel developed a new character, also named Superman, but now a heroic character.

"This is the house where Superman was born," reads the sign hanging on the fence in front of 10622 Kimberly Ave. It's a private home.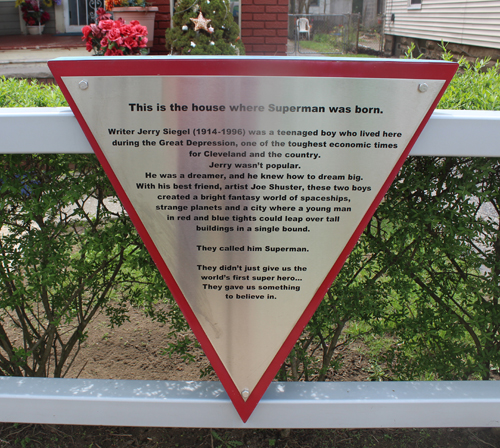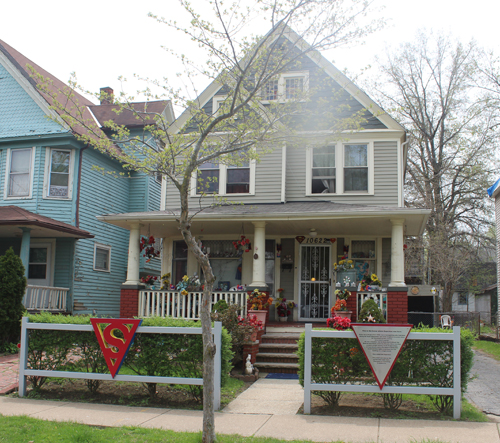 See more from Superman creator Jerry Siegel's home
---
Tulips in bloom in the Turkish Cultural Garden
Last fall, volunteers gathered to plant tulip bulbs in the Turkish Garden. Now their efforts have paid off.

Though many think of the Dutch when they discuss tulips, tulips are actually native to Turkey. Tulips are the national flower of the Republic of Turkey with a history going back to its Ottoman roots. Many cultivated varieties of tulips were widely grown in Turkey long before they were brought to Holland from Turkey In the 16th Century.

The time between 1718-1730 is called the "Tulip Era of Turkey". It was under the reign of sultan Ahmed III and tulips became an important style of life within the arts, folklore and the daily life during this peaceful time.

The botanical name for tulips, Tulipa, is derived from the Turkish word "tulbend" or "turban", which the flower resembles. It's considered as the King of Bulbs.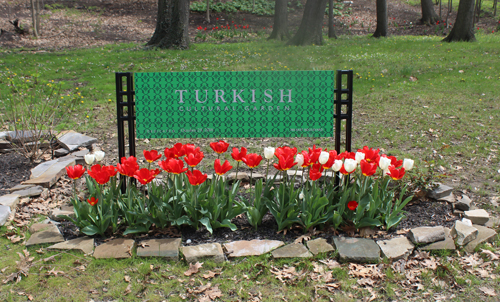 Tulips in the Turkish Cultural Garden
---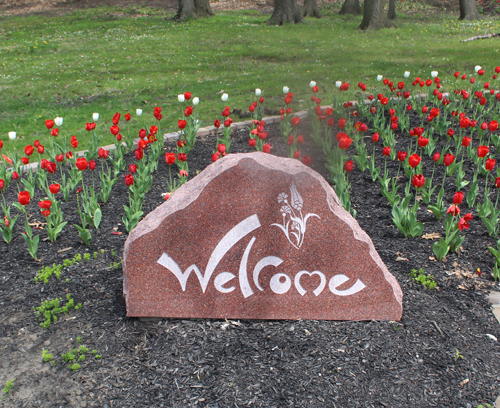 ---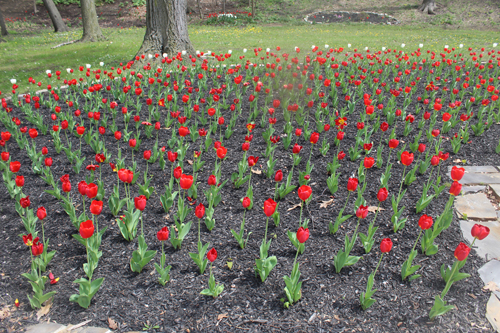 ---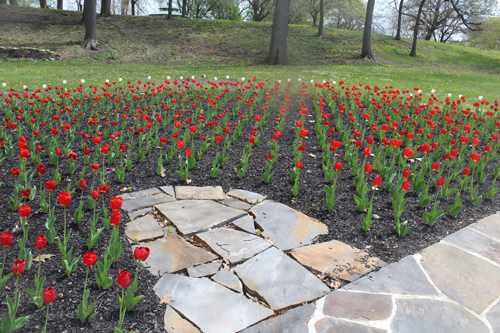 See more of the Turkish Garden Tulips
---
What a Night!
9th annual Cleveland International Hall of Fame inductions
Well over 500 people attended the induction of the 9th class of the Cleveland International Hall of Fame on Tuesday April 17, 2018.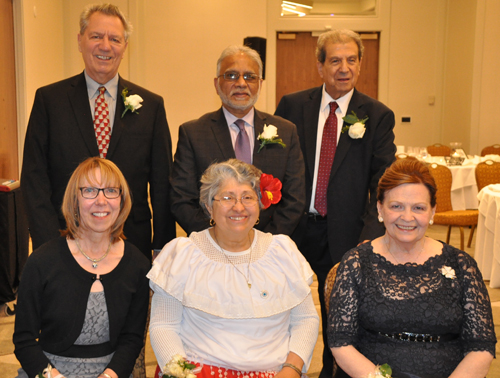 Ralph Perk Jr., Dr Atul Mehta, Abby Mina,
Karen Pianka, Sister Alicia Alvarado and Sheila Murphy Crawford



It was an inpsiring evening. Look for photos and videos up soon.

Cleveland International Hall of Fame


---
Cleveland Indians 2018 season preview - What's New at Progressive Field
The American League Central Division Champion Cleveland Indians provided details about what's new this season at Progressive Field, including the Lexus Home Plate Club, Progressive Charging Lockers, expanded safety netting, new menu items and more.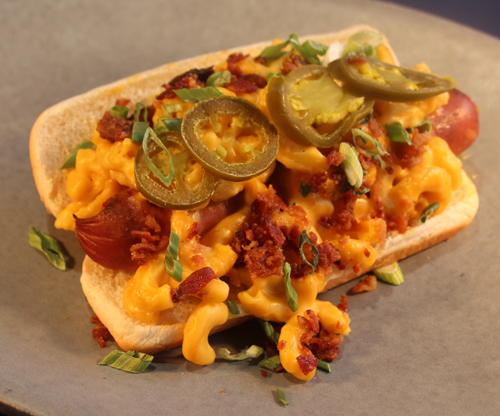 Mac Daddy Dog



Photos and videos of the new food and more from Progressive Field

Go Tribe!
---
Make Your Bed
Little things that can change your life
by Admiral William H. McRaven (US Navy Retired)



On May 17, 2014, Admiral William H. McRaven addressed the graduating class of the University of Texas at Austin on their Commencement day. Taking inspiration from the university's slogan, "What starts here changes the world," he shared the ten principles he learned during Navy Seal training that helped him overcome challenges not only in his training and long Naval career, but also throughout his life; and he explained how anyone can use these basic lessons to change themselves-and the world-for the better.

Read the book review by Dan Hanson


---
Jim Thome in Baseball Hall of Fame
Congratulations to Cleveland Indian slugger Jim Thome for his first ballot selection into the Baseball Hall of Fame. Never even a hint of steroid use, Thome was country strong.

We hope Omar Vizquel joins you next year.
Jim Thome statue in Cleveland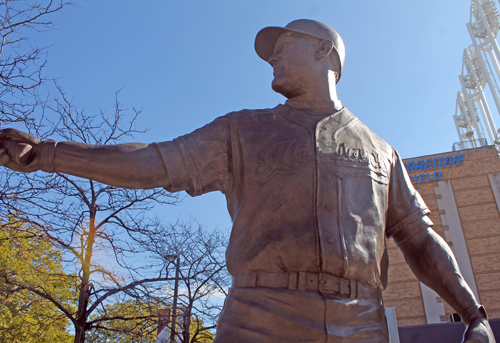 ---
A Senior Prayer
God, grant me the senility to forget the people I never liked anyway, The good fortune to run into the ones that I do, and the eyesight to tell the difference.

---
Just because you're "Young" doesn't mean that you can outsmart an "old Geezer"
Yesterday my daughter e-mailed me again, asking why I didn't do something useful with my time. "Like, me sitting around the pool and drinking wine is not a good thing?" I asked. My "doing-something-useful" seems to be her favorite topic of conversation.

She was "only thinking of me", she said and suggested that I go down to the Senior Center and join something.

I did this and when I got home last night, I decided to play a prank on her. I e-mailed her and told her that I had joined a Parachute Club.

She replied, "Mother, are you nuts? You are 78 years old and now you're going to start jumping out of airplanes?"

I told her that I even got a Membership Card and e-mailed a copy to her. She immediately telephoned me and yelled, "Good grief, Mom, where are your glasses?! This is a Membership to a Prostitute Club, not a Parachute Club."

I calmly replied, "Oh my, I think I'm in real trouble then, because I signed up for five jumps a week!!"

The line went quiet and her friend picked up the phone and said that my daughter had fainted.

Life as a Senior Citizen is not getting any easier, but sometimes it can be real fun.


---
Do you need help paying your Medicare expenses?
If you are a low-income Medicare beneficiary, the Medicare Premium Assistance Programs (MPAP) may help you pay some or all of your Medicare cost-sharing expenses (premiums, copays, and coinsurance). MPAP is part of the Ohio Medicaid program. MPAP is sometimes called the "Medicare buy-in" or "Medicare savings" program.

Learn more about help paying your Medicare expenses


---
Who Needs Advance Directives about Medical Care?
Advance directives help ensure that you receive the medical care you would want even when doctors and family members are making decisions on your behalf. There are two different types of advance directives: Health Care Power of Attorney and Living Will.

Learn more about Health Care Power of Attorney and Living Wills


---
Elder Abuse: What Is It and How to Get Help
It is difficult for people to accept the notion that adult abuse occurs in the elderly, but the sad fact is that it occurs everyday. Last year in Ohio over 16,000 incidents of elder abuse were reported to Ohio Department of Job and Family Services. In Cuyahoga County alone, over 3,000 incidences of elder abuse were reported to Cuyahoga County Department and Senior Adult Services, Adult Protective Services.
---
Should you purchase prepaid funeral arrangements?
Many people do not like to think about death or funeral arrangements, but some people do make plans for when they pass. For example, some people choose to purchase "pre-paid funeral contracts." These contacts allow you to make decisions about your own funeral, and pay for it ahead of time. These pre-paid contracts give some people peace of mind. But before purchasing such a contract, keep the following issues in mind.

More about prepaid funeral arrangements


---
How can seniors learn more about benefits available to them?
BenefitsCheckUp is a web-based service that helps seniors. It is especially helpful for those with limited income and resources, their family members and, social service organizations. It connects people to over 2,000 public and private programs. Many adults over 55 need help paying for basic needs. Some of the benefits screened for are health care services, prescription drugs, rent assistance, in-home services, meals, heat, and energy assistance, and transportation.

Learn more about Benefits Checkup


---
Grandparent POAs and Caretaker Authorization
Grandparents sometimes find themselves caring for a grandchild unexpectedly. This often happens without any formal court order giving the grandparent custody or guardianship. Without custody or guardianship, the grandparent will face problems getting medical care for the child or dealing with the child's school.

More about Grandparent POAs and Caretaker Authorization


---
How do I name a Durable Power of Attorney?
A durable power of attorney can be one of the most helpful estate planning tools a person uses, but it can also be very risky. A durable POA gives a person (who is called an "attorney in fact") legal authority to act for another person in a variety of matters, including banking, benefits, housing, taxes, real estate, litigation, and more. (The durable POA is different from a Health Care Power of Attorney, which is the form used to appoint a person to make decisions about health care.)

Learn more about Durable Power of Attorney


---
Are Wills Really That Important?
:When my mother died in 2012, we discovered that her will was from 1959 and had not been updated to reflect the many changes in her life since then: she had four more children, she bought a house, furniture, an automobile, jewelry, and a dog. As a result, my mother died without a valid will. Following her death, bills had to be paid, property sold, her furniture, jewelry, the car divided, and someone had to take in the dog."

Read more about the importance of Wills


---
Recommended For You (popular with other Cleveland Seniors)
---
ClevelandSeniors.Com Book of the Week
Before You Leap


Before You Leap starts on screeching tires, literally—an interstate bridge, a police chase, three men trapped in a car, driving at full speed. The two in the front are arguing, one is brandishing a gun, and the third is bleeding profusely in the backseat. You can't help but be immediately hooked and wonder, Who are they? And how on earth did they get here?

The novel then takes you back a few days. Greg Cole's quiet and secluded life is about to be thrown into chaos when he learns that his dead sister's convicted murderer has been released early.

Before You Leap is absorbing, thought-provoking, and psychologically riveting. I was struck by how the author is able to delve into Greg's psyche and express his grief over the loss of his sister—and the inner turmoil that overtakes him—with such clarity. What you're left with is a poignant, complex, nail-biting novel where you watch in a stupor as someone's life and sanity shatter. And as it crescendos, the story pulls the rug from under your feet and delivers the most unexpected twist—one that took my breath away and left me reeling.

Before You Leap
---
Free weekly eNews
Every Tuesday evening we send an e-mail message to people who are interested in upcoming (the next week) events that have an ethnic or cultural connection. So it may be Opera in the Italian Garden or Puerto Rican Day Parade or Slovenian Kurentovanje or...

If you are interested in receiving this free weekly e-mail just sign up for the free eNews.

You can also sign up to receive more specific free eNews for any groups or groups you may choose (Irish, German, Polish, Chinese, etc.)

It's easy and free and will let you know every week about fun and interesting events that are coming up in the next week.
---
---
Calendar of Events for Cleveland Seniors & Baby Boomers
---

Have you seen the Amazon Deal of the Day? Everyday, a new very special deal will be offered. Look to the left-hand column of this page for the daily special.


---
Sign up for our free eNewsletter sent about once every 2 months with special offers, discounts, contests and more.
---

Whether you are a Boomer who's just turned 50 (and don't think of yourself as a Senior) or part of the "Greatest Generation," you can learn about issues that are important to you and your family right here on ClevelandSeniors.com from Cleveland area experts.


Don't miss our profiles of interesting Cleveland Seniors and Baby Boomers - Maybe it's someone you know! (Or tell us about someone we should know)



Take advantage of discounts and specials selected just for you.



Ask questions and receive answers from our many experts from all walks of life.



Share your thoughts, memories, ideas with other Cleveland Seniors and Baby Boomers.



Keep your mind sharp with some of our games, quizzes and mind expanders.



Most importantly, come back often and
Have Fun!


---
Top of Page