Welcome to
ClevelandSeniors.Com,
the online home for
"Seasoned Citizens"
of Cleveland, Northeast Ohio & Beyond!

---
A Day that will live in Infamy
75 years! How the world has changed in the 75 years since the December 7, 1941 attack on Pearl Harbor.
We talked to some local people about their memories of that day. Here are some excerpts of what they had to say.
One woman remembers being a young girl at the time.
"I was at home with my family listening to Irish music on the radio, when they cut in and told us Pearl Harbor had been bombed. We didn't know what to do - I was only eleven years old, but I was sure we were going to be bombed and we were all going into battle. I had to do something, but I had no idea what. So I prepared as best I could. I cleaned all of my drawers and organized all of my things. I was going to be ready if we were invaded.
The next day was a Holy Day - Mary's Day - the Feast of the Immaculate Conception. As Catholics we all went to Mass and afterwards everyone stood around together outside. The adults were all talking very seriously and the kids were all looking up to see if there were planes coming to bomb us."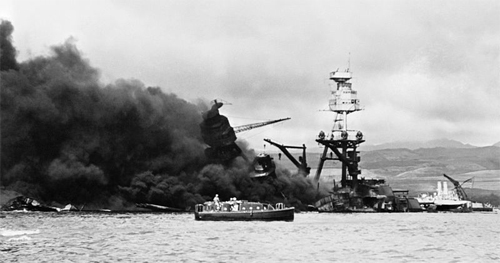 The burning wreckage of the U.S. Navy battleship USS Arizona (BB-39)
at Pearl Harbor, Hawaii December 7, 1941.



Kevin says:

"Sure, it changed our lives a lot. But not as much as places like England and Europe who were being bombed all the time. I was pretty young - only 8 - so I don't know a lot of details. But everyone was always serious and scared.

All of a sudden there would be a loud shrill noise - a siren it was. Then there would be an Air Raid Drill. Everyone had to turn off all of their lights and pull their shades down, so the enemy couldn't find us. No one was allowed outside. There was a neighborhood man who would come around and make sure we were all following the rules. It was very scary."

Everyone seemed to remember the drills. The other thing they remembered were the rationing and shortages. Everyone was allotted a certain amount of food stamps and gas cards and somehow they had to make it work. Nylon stockings were unavailable - nylon was needed for the war. Meat was sent to the troops. There were year long waiting lists for new cars and a new pair of shoes was like gold.

Grace explains the feeling.

"There were no protests in the streets. Everybody was proud of the USA. Even Hollywood supported the country. Many of them did USO shows. Bob Hope was never home for the holidays. He was always off entertaining the troops. We all banded together.

I got married in November, 1941. My husband went to the war. So did my cousins, brothers, uncles and friends. Some came home, some didn't. We were proud as could be of each and every one of them. It was such a different time."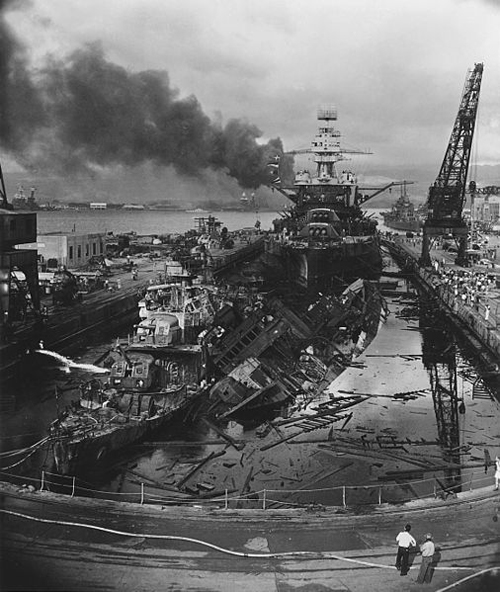 USS Pennsylvania, behind the wreckage of
the USS Downes and USS Cassin.
As serious as everything was at that time there was also a special feeling of camaraderie. Here's how Laura describes it:
"Pianos were very popular at the time. That was a big form of entertainment. After Pearl Harbor we still stood around the piano but now the songs were all about the war and very patriotic. We didn't have a television so we went to the movies a lot. There was always a newsreel before the feature that kept us informed. We all read the newspapers and listened to the radio too. Even little kids wore buttons on their coats calling for the death of "the rats": Hitler, Mussolini and Tojo.
Sometimes I think we all got closer because we had a common enemy."
All of the people we talked to remember sending Care Packages. Some contained toiletries and Band-Aids while others sent cookies and food from home. They all knew anything from home was welcome.
Many women started working outside the home for the first time. Working ten to twelve hours seven days a week in a factory was not unusual.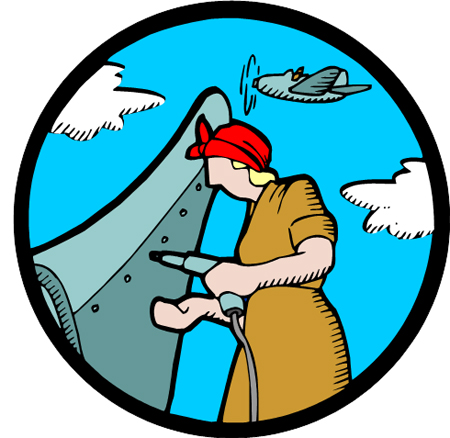 Of course this meant children learned to do things they never had to do before. Cooking, cleaning, even shopping fell in the hands of people in the home.

Mildred remembers another change:

"All of a sudden stars started showing up in the windows of people's homes. If I remember correctly, a blue star meant they had someone in the service, and a gold star meant someone died. Some houses had a lot of stars - I guess those were the ones with a lot of sons. Course women went in the WAVES and WACS too, but I didn't know any. It was the boys that I remember going.

And then one day when I went to Church there was a plague up on the wall and it listed the names of the guys from our church and our neighborhood who had died in the war. I couldn't believe it. I knew some of those guys - or their families. Then every week when we went to church the plague had more names.

We started hearing stories about what I call real heroes. The guys who were at Pearl Harbor. The ones who were shot down on their last trip - or even their first trip. The ones who had permanent disabilities as a result of their service. And the women who were left at home with little kids. These are heroes. We all prayed like crazy for all of them."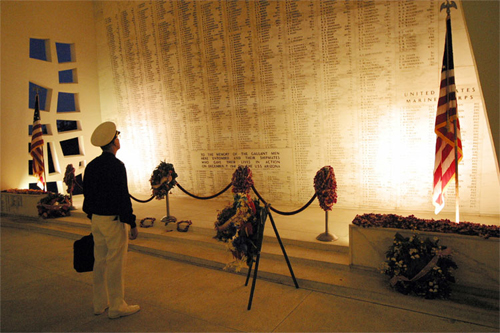 Inside the shrine room of the USS Arizona memorial in Pearl Harbor - To the Memory of the Gallant Men Here Entombed and their shipmates who gave their lives in action on December 7, 1941, on the U.S.S. Arizona" — inscription in marble with the names of Arizona's honored dead



December 7, 1941. President Roosevelt declared it to be a Date That Will Live in Infamy. How right he was.
---
Put a bracelet on when alone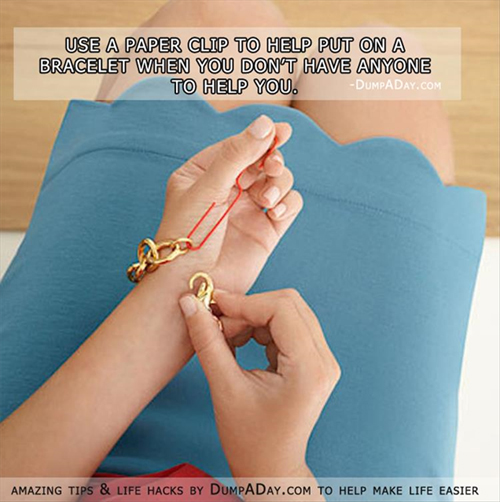 ---
What's in YOUR wallet?
Women need their purses, whether a giant totebag to carry everything for a safari expedition, or a teeny, glittery, evening one holding only a lipstick and a credit card. But men! They manage with a little piece of folded and stitched leather. Not tied to straps and handles, they slip their wallet into their suit jacket and off they go to face the world.

...So when the Irish wake for Himself was over and everyone had left, I put his wallet into the top dresser drawer, and there it lay for going on 5 years. The other day, around his birthday, I brought it out, setting each item inside on the dining room table.

Read the rest of Amy's look into her husband's wallet


---
Burying the Time Capsule in the Cleveland Cultural Gardens
The Cleveland Cultural Gardens Federation ended their Centennial Year by burying a time capsule at the Kiosk of the Gardens on MLK Blvd. The time capsule has information and artifacts about the Gardens and also Cleveland in 2016. (Go Cavs, Go Tribe) It will be opened in 25 years in 2041.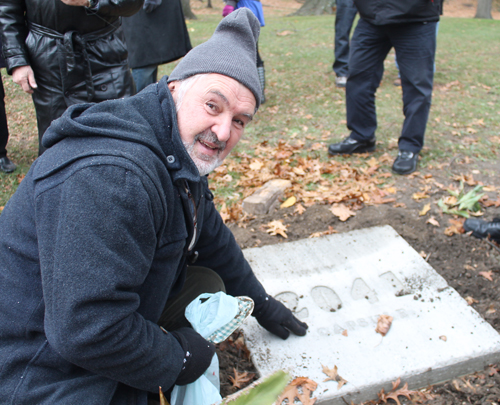 Past Gardens president Paul Burik says see you in 2041
More from the Time Capsule burying
---
Healthy Asian Cooking
Rose Wong founded Pearl of the Orient restaurant in 1978. It was the first to offer Northern and Szechuan cuisine in Cleveland Ohio and continues to be a favorite among Chinese food cognoscenti. Rose gave a Healthy Asian Cooking demonstration on November 10, 2016.

Chinese and other Asian cooking is often healthier than the West because of the stir frying and healthy ingredients such as tofu, ginger root, garlic, onions and even thousand year old eggs.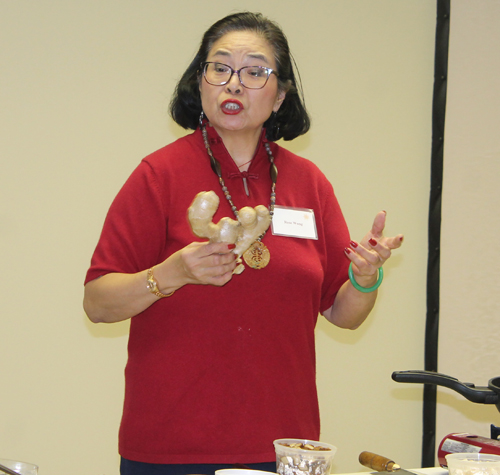 Rose Wong with Ginger Root
Learn about woks, soy sauce, sesame oil, MSG and more from Rose Wong
---
Sounds good to me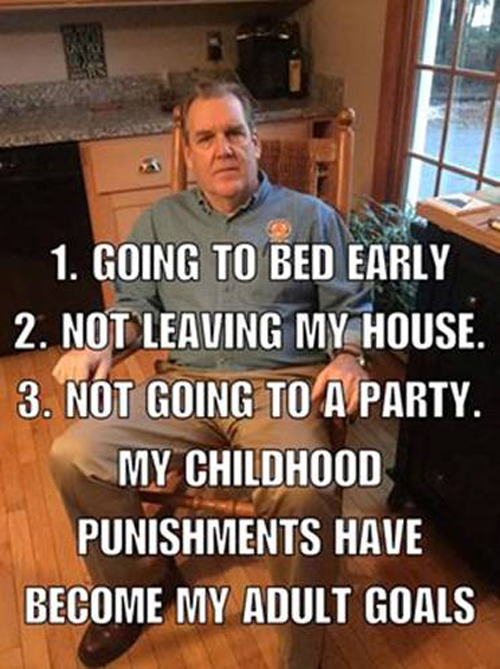 ---
Battle of Dien Bien Phu, Psychological Operations, and the Thai People
by Joseph Patrick Meissner
An eleven year old boy kneels beside his bed and studies the pages and maps of the Cleveland Plain Dealer laid out on the bed spread. The ongoing media story for several months has been the titanic struggle at Dien Bien Phu in Northwestern Vietnam. Daily, the Viet Minh Communist forces have tightening their trench line noose around these gallant French forts manned by French foreign legion troops, other French soldiers, Moroccan and African French forces, Vietnamese units of Emperor Bao Dai, and local Thai and tribal groups. The Communists were called the Viet Nam Doc Lap Dong Minh Hoi (League for the Independence of Vietnam)-- or the Viet Minh, as it became known colloquially.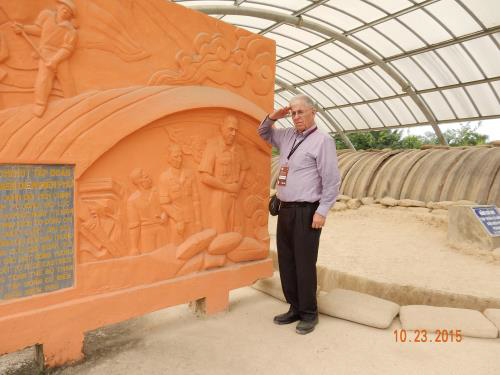 This is concrete relief beside Col De Castries bunker showing brave French defenders. I salute them for their dedication and sacrifice



If you like history, especially military history, Read the rest of the essay on Dien Bien Phu


---
I Wanna Be Wonder Woman by Amy Kenneley
A few days ago, the United Nations selected Wonder Woman to be the Honorary Ambassador for the Empowerment of Women and Girls on the 75th birthday of her creation as a comic book character. Immediately, protestors gathered, demanding that a "real woman" should have been chosen for the honor, not "….a fictitious comic book character wearing ..what looks like a Playboy-type bunny outfit .." (a quote taken from The Associated Press release)

SO...Pick Me! I am a real person, and I LOVED Wonder Woman, so what better combination could they have to be that Honorary Ambassador?

Here's why:

Read the rest of Amy and Wonder Woman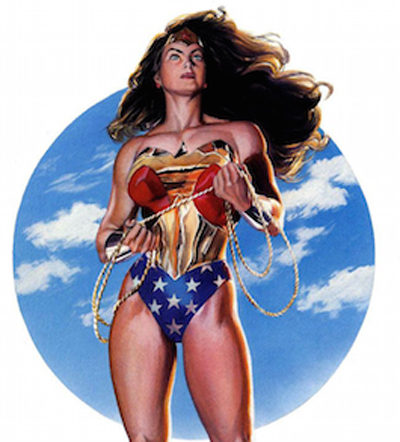 ---
Uber Good! - My first Uber ride by Amy Kenneley
When you realize that driving at night-- especially on roads you are not too familiar with-- is not such a good idea anymore, you have a few choices.
You can stay home
You can have someone else drive
You can take public transportation
You can call a cab.
But I was not about to go back to TV reruns, not when an event was on the calendar that was not to be missed. What to do?
I had heard of this driving service called Uber, but had never tried it.
Read the rest of Amy's first Uber ride


---
Rita Moreno in Cleveland for Convencion Hispana
The legendary Rita Moreno came to Cleveland to be the keynote speaker at the 2016 Convencion Hispana. The evening before she was a guest at a preview reception at Baker Hostetler where Hispanic Roundtable president Jose Feliciano practices law.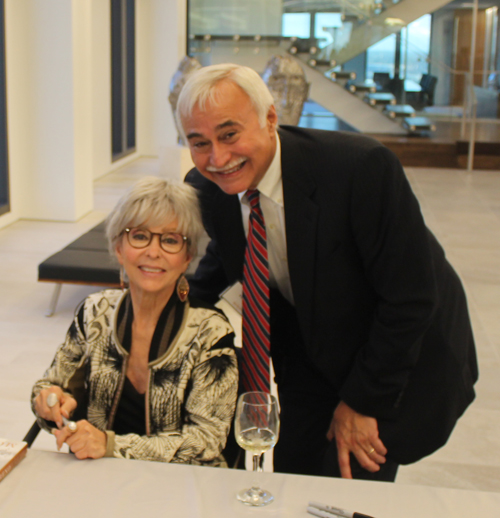 Rita Moreno and Jose Feliciano

Rita Moreno is a Puerto Rican-American actress and singer. Her career has spanned over 70 years; among her notable acting work are supporting roles in the musical films The King and I and West Side Story, as well as a 1971-77 stint on the children's television series The Electric Company, and a supporting role on the 1997-2003 TV drama Oz.

Moreno is one of twelve performers to have won all four major annual American entertainment awards: an Oscar, an Emmy, a Grammy and a Tony. She is also one of 22 people who have achieved the so-called Triple Crown of Acting, with individual competitive Academy, Emmy and Tony awards for acting; and one of only two people who have achieved both distinctions, the other being Helen Hayes. She has also won numerous other awards, including various lifetime achievement awards.

In her book you can read about her eight-year-long affair with actor Marlon Brando as well as dating Elvis Presley, Anthony Quinn, Dennis Hopper and others.



See more of Rita Moreno in Cleveland


---
Respect the national anthem - never take a knee
Estonian Garden representative and Cleveland Cultural Gardens Federation board member Erika Puussaar spoke at the 80th anniversary celebration of the Lithuanian Cultural Garden in Cleveland. As a former refugee and immigrant, she spoke of the great respect she has for the national anthem and how others should respect it as well - and never take a knee.

Click the white arrow to watch the video.



See more from the 80th anniversary of the Lithuanian Cultural Garden


---
ClevelandSeniors.Com Book of the Week
Before You Leap


Before You Leap starts on screeching tires, literally—an interstate bridge, a police chase, three men trapped in a car, driving at full speed. The two in the front are arguing, one is brandishing a gun, and the third is bleeding profusely in the backseat. You can't help but be immediately hooked and wonder, Who are they? And how on earth did they get here?

The novel then takes you back a few days. Greg Cole's quiet and secluded life is about to be thrown into chaos when he learns that his dead sister's convicted murderer has been released early.

Before You Leap is absorbing, thought-provoking, and psychologically riveting. I was struck by how the author is able to delve into Greg's psyche and express his grief over the loss of his sister—and the inner turmoil that overtakes him—with such clarity. What you're left with is a poignant, complex, nail-biting novel where you watch in a stupor as someone's life and sanity shatter. And as it crescendos, the story pulls the rug from under your feet and delivers the most unexpected twist—one that took my breath away and left me reeling.

Before You Leap
---
Free weekly eNews
Every Tuesday evening we send an e-mail message to people who are interested in upcoming (the next week) events that have an ethnic or cultural connection. So it may be Opera in the Italian Garden or Puerto Rican Day Parade or Slovenian Kurentovanje or...

If you are interested in receiving this free weekly e-mail just sign up for the free eNews.

You can also sign up to receive more specific free eNews for any groups or groups you may choose (Irish, German, Polish, Chinese, etc.)

It's easy and free and will let you know every week about fun and interesting events that are coming up in the next week.
---
---
Calendar of Events for Cleveland Seniors & Baby Boomers
---
---

Have you seen the Amazon Deal of the Day? Everyday, a new very special deal will be offered. Look to the left-hand column of this page for the daily special.


---
Sign up for our free eNewsletter sent about once every 2 months with special offers, discounts, contests and more.
---

Whether you are a Boomer who's just turned 50 (and don't think of yourself as a Senior) or part of the "Greatest Generation," you can learn about issues that are important to you and your family right here on ClevelandSeniors.com from Cleveland area experts.


Don't miss our profiles of interesting Cleveland Seniors and Baby Boomers - Maybe it's someone you know! (Or tell us about someone we should know)



Take advantage of discounts and specials selected just for you.



Ask questions and receive answers from our many experts from all walks of life.



Share your thoughts, memories, ideas with other Cleveland Seniors and Baby Boomers.



Keep your mind sharp with some of our games, quizzes and mind expanders.



Most importantly, come back often and
Have Fun!


---
Top of Page